Introduction
The LED TV screen can be used as a display alone or as a large screen. According to different usage requirements, it can realize a variable and large variable screen function. For example, large-scale LCD splicing screens displaying discounts, promotions, etc. are often seen in large supermarkets, various shopping malls, and specialty stores. The unique conspicuous position and high-definition large screen can give people a shocking effect and attract customers. Eyeballs bring more business opportunities.
Characteristics
LED TV adopts professional digital document processing engine, which adopts motion detection and compensation calculation, interpolation calculation, edge smoothing processing, 3D filtering separation dynamic noise reduction technology, and clutter signal suppression and other cutting-edge processing technologies to achieve high image quality and high resolution, improved seamless stitching of saw-tooth.
● Intelligent split screen: adopts video extension technology, the picture is stable and arbitrarily switched, clear and smooth, and not distorted.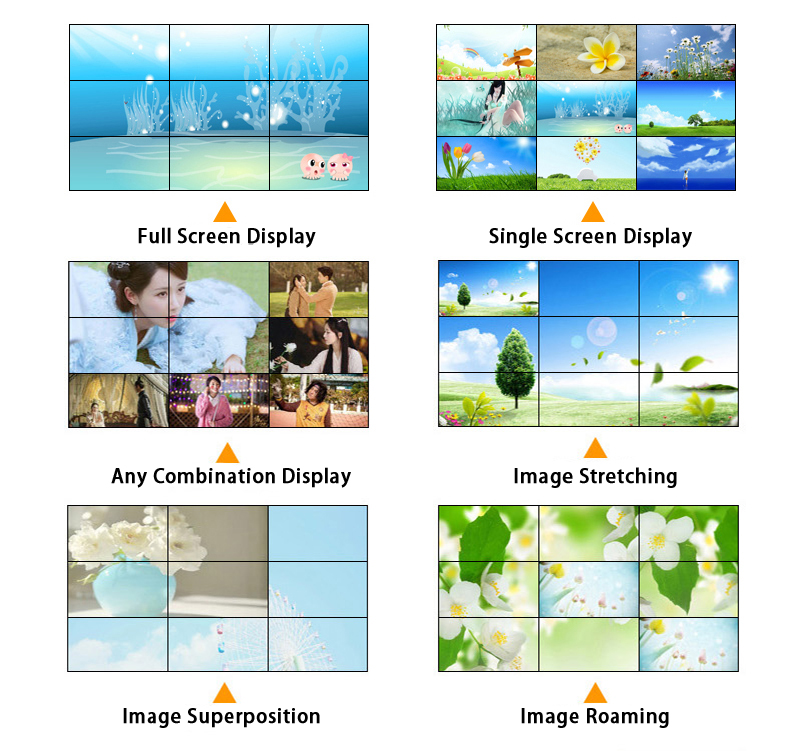 ● Wireless control: network control screen, control switch, arbitrary screen switching, and can also monitor whether the screen is accurately controlled by monitoring.
System Advantages
● Uniformity: LED TV screen configuration compares the parameters such as bulb, brightness, color balance, etc., and automatically adjusts to the most perfect state.
● Advanced image processing technology: three-dimensional space filtering, reducing the image quality loss in the middle of the analog signal in the splicing, maintaining a very high splicing refresh rate.
● Long life: LED TV life is up to 60,000 hours compared to early projection bulbs.
● Slabization: easy to operate, easy to maintain, LED screen body and control system are plate standardization, convenient for installation, debugging, maintenance, etc.